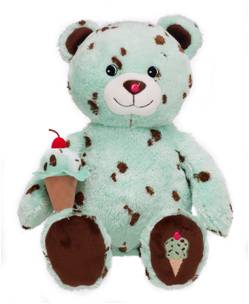 There are four new bears in the highly anticipated Ice Cream Bear Series, rumoured to all be released in July 2010:
The bears all come with their own plush ice cream (not pictured on the Hot Fudge Sundae Bear).
Each bear comes with a new exclusive virtual ride, an ice cream cart in the flavour of each bear. Once all four bears are collected, a new ice cream parlour becomes available for your character's cub condo!
Introduced: July 2010
Not Retired
Virtual Friend
PSI: Ice Cream Cart Ride
Set Gift: Ice Cream Parlour for Cub Condo
Ad blocker interference detected!
Wikia is a free-to-use site that makes money from advertising. We have a modified experience for viewers using ad blockers

Wikia is not accessible if you've made further modifications. Remove the custom ad blocker rule(s) and the page will load as expected.